I am what I am because of who we all are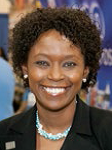 Enactus Alumni: Amy Kihenia-Davis
Missouri Southern State University, Joplin , MO
BSBA, International Business; BA German, 2003
University of Arkansas, Fayetteville, AR
MA German
"There is an African philosophy, Ubuntu," explains Amy. In Kenyan Swahili, it is 'utu.' It means I am what I am because of who we all are,, and it reflects the essential value of humans caring for and sharing respect for each other. I am who I am because of the sacrifices and contribution of others. Everything we did in Enactus reflected that principle. We gave to others around the world and taught them with respect. Enactus brought that out in me and taught me together we make a difference."
Born in Nairobi, Kenya, Amy attended boarding school during her high school years. She attended Kiel University of Applied Sciences, then transferred to Missouri Southern State University (MSSU) where she was introduced to Enactus (then SIFE.)
"I didn't know at the time how much Enactus would change my life," she says. "The more I got involved, the more I was amazed by how many lessons I learned. I gained real- world learning experience and the chance to be a part of something bigger than myself, where I could educate others, network with business managers at competitions and career fairs, pursue internships, interview for jobs and gain confidence.
"My dad passed away when I was 13, and my mother raised me and my three younger siblings to believe we could do anything and to remember to always give back. When I came to the US, it was a very different culture, and much bigger than what I was used to. I found Enactus refreshing with values that reflected my family's, and people who had the same sense of commitment that I had. The Enactus team was my family away from home.
"Enactus has helped me succeed by teaching me that anything is possible if you set goals, work hard and are prepared. When opportunity arises, be ready to take action. Being on the presentation team, I gained the confidence to stand in front of everyone and speak. I was absolutely terrified to present and worked for hours with our speech professor to prepare. Working on projects with my teammates, I learned how to be a leader and bring out the best in others by discovering their strengths. I look back and see an amazing transition.
"Enactus opened doors for remarkable opportunities and gave me an avenue to make valuable connections. So many of the people I have met and worked for continue to be mentors, even when I no longer work with the company."
As a junior in college in 2001, Amy was recruited at the Enactus USA National Exposition Career Fair for an internship as a summer management trainee with Walgreens; she continued as an assistant store manager while completing her senior year of college. Upon graduation she accepted a position at Walgreens' headquarters in Illinois. In 2004 she left to pursue her master's degree on scholarship. Through her Enactus affiliation, she was offered a position as a category analyst for Sara Lee in 2006 (acquired by Bimbo Bakeries USA in 2011), where she held various roles including category management for Walmart. In 2012 she joined Walmart Stores, Inc. in her current position as a modular development manager.
"All the companies I've worked with have been involved with Enactus and want to recruit Enactus students," says Amy. "They understand how important it is to make a difference. With Walmart, as with Enactus, it's not just about business, it's about heart. I've seen how much of our founder's core values continue to be a driving force of the company: respect for individual, service to our customers, and striving for excellence. Those principles are also reflected by Enactus.
"I am who I am today because Enactus taught me that I truly matter, and I can do anything. Who could have imagined? When I came to the US, I didn't know where Arkansas was! But through mentors and my Enactus team, I was challenged to step out of my comfort zone, and given opportunities and encouragement to be the best I could be. In so many ways Enactus has shaped me, inspiring me to give back, be determined, work hard and smart, and never give up!"