Wondering what recruiters look for during an interview?
Stepheney Aden, Senior Recruiting Specialist, Talent Sourcing at Nestle Purina PetCare Company, answers your questions.
Enactus Career Services: When you meet a potential new hire, what is the first thing you look for?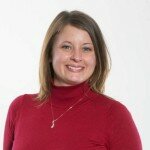 Stepheney: "The first thing I look for is a professional appearance, not just their attire, but an overall impression including how well organized and prepared they seem for the interview. You can tell whether or not a candidate is prepared no matter if it's conducted by phone or face-to-face. It is a good idea for candidates to do their homework. A great candidate should be able to explain why they are interested in the company, and to articulate their achievements and resume history. I advise any potential hire to know your resume and the job you are applying for.
A great candidate will be able to explain why they feel their background and skill set is a good match for the role they are seeking. A qualified candidate should be confident and show passion and initiative for what they would like to do and, above all else, they should ask questions! The interview is not only for the company to learn about the candidate, it's a chance for the candidate to interview the company. The position has to be a good fit for everyone involved and the only way to determine that is by asking questions."