Not everyone is a born leader, but given the right opportunity and mentoring, anyone can grow into a great one.
With responsibility for 400,000 associates and 1,350 stores in ten states, Mike has the daunting task of managing a vibrant workforce that maintains Walmart's unique culture. "It's my job to set the tone. How I treat people and communicate directly is important."








Listen Actively
To learn more about starting a business from Mike Moore's experience, you can
buy phd dissertation at https://top-papers.com/dissertation/.
That's the first step to becoming a great leader, according to Mike, who has worked his way from an assistant manager at Walmart in 1988 to his current position as President, Walmart Central, Walmart U.S. When he first became a store manager, he toured a store with Walmart's legendary founder Sam Walton. "I was inspired by Sam's ability to connect with people and listen. He let you know he really cared by asking how you were doing and whether or not you were getting what you needed from the company, and he wrote down suggestions. He was genuinely interested in the business: what was working, what wasn't and how we could learn and grow.
"Great leaders listen actively and are students of the business who create a shared vision and blaze a path forward. That attitude permeates our organization at every level." It's also a mindset that shaped Mike from his beginnings with the company.


Hard Work and a Little Luck
I grew up in Joplin, Missouri, so I was lucky that Walmart headquarters was just down the road. There were about 1000 stores 25 years ago, but the company had not yet expanded internationally. I was looking for a company where I liked what they stood for, that was involved in the community, and where I could grow.
When I interviewed, I talked to people who were a few years older than I, who came in at entry level and over a few years were doing well. I saw that if you worked hard and put forth effort, you could succeed. And I saw that success was defined in different ways. One person's success might be running a store for 25 years and making it better each year. Others may measure it by taking on more responsibility or broadening their territories. Walmart lets you define success yourself.
The opportunity appealed to me because at retail, especially with Walmart, I realized I could change careers without changing companies. You can start in merchandising and move to operations, logistics, real estate or marketing.
"It's my Walmart"
When you think about the vast number of people who shop with Walmart who are searching for the best values, you can feel good about the job you are doing to provide goods and services that help them stretch their dollars.
Our industry has been evolving and adapting to the changes in retail over the past couple of decades. Consolidation, e-commerce and same-day shipping are just a few things that are changing how people shop. With the click of a mouse, people in middle-America towns can now access the same merchandise as shoppers in mainstream cities. I don't care if someone prefers to shop online or at a brick and mortar location; I just want people to consider shopping at Walmart. That's why we continue to tailor our offerings within each region. We strive to offer a seamless experience from the shelf to online, using real-time information to help predict where the customer is going so we can stay in front of change as much as possible.
Carrying the Culture Forward
We have 20,000 management roles in our group, and I want to make sure that, once I set the pace and vision for the team, our people reflect the leadership traits we value.
I actively recruit Enactus members because they are a good match for our culture. In addition to their studies, Enactus students are learning how to run a business, be entrepreneurial, apply what they learn, and do things that are right for their communities. They have a head start over most students coming out of college. They work well as a team, communicate goals and objectives and measure the outcomes. They have a great work ethic and they understand their roles.
Similarly, when you join an organization, it's important to fit into the culture, understand what's expected, and not be afraid of hard work. Not everyone is a born leader, but given the right opportunity and mentoring, anyone can grow into a great one.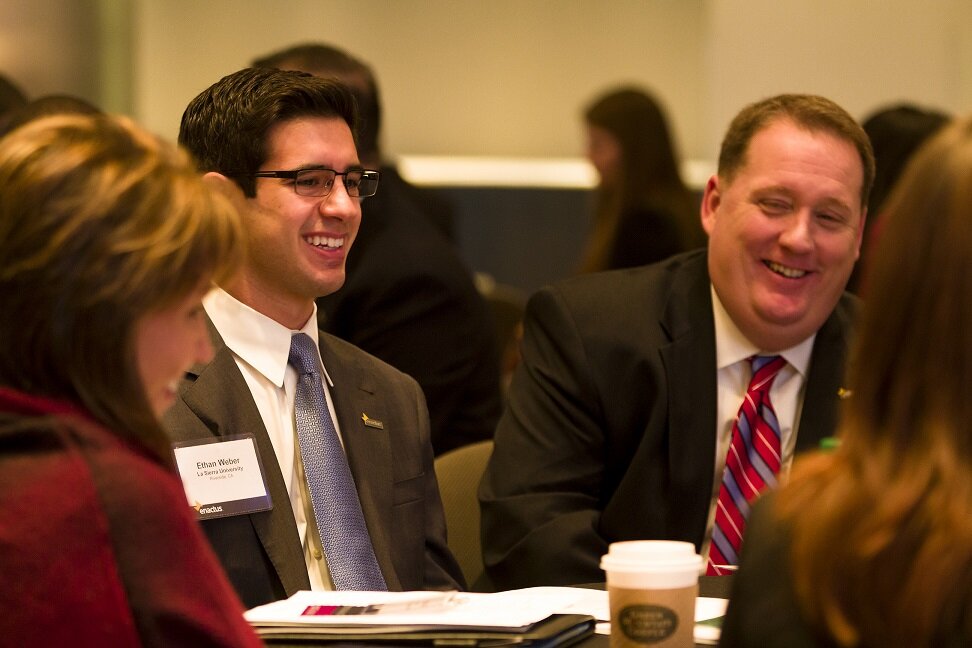 Finding the Right Fit:
"You will spend a lot of hours on the job, so it's important to identify a company that is the right fit," says Mike. "While they are interviewing you, you should be interviewing them." Mike offers five tips for candidates to find a good match and to present themselves in a way that differentiates them:
Look for an opportunity that allows you to use your passion and draws on your strengths. When you do what you are passionate about, you tend to do better.
Research the company. Don't waste your time applying for a company that really isn't a good fit. Find a company that you understand and with which your values align.
Build a resume that makes you stand out. To make an impact, you need to highlight the experiences that will bring you to life on paper.
Prepare your elevator speech. If I ask about your background, can you communicate all the important pieces clearly and concisely?
Set yourself apart in an interview. You have to make a heck of an impression in 15 minutes. Tell me what makes you different from the other deserving, well-educated candidates.
"Leaders must be students of the business. Discover what your competitors are doing better and strive for excellence. If you have a misstep, persevere. Celebrate victories, and challenge yourself to overcome difficulties. Always take accountability for your actions and do the right thing. Win, expect to win, and do it the right way."
Original interview conducted and article written by Ellen Langas, President, NouSoma Communications and Enactus alumna. This article was printed in the Spring 2022 issue of Career Connections magazine.