Resolve to do better every day.
For more than 100 years, Hallmark Cards, Inc. has helped people connect with one another and give voice to their feelings. Founder Joyce C. Hall's legacy of quality and caring has been passed from generation to generation since he started the company in 1910. "Good taste is good business" was the credo he led by for 56 years. Succeeding generations of family leadership, along with thousands of employees and retailers, have nurtured and grown his vision into today's Hallmark.
There has always been a Hall in Hallmark's top leadership, which includes Chairman Donald J. Hall and his sons, Donald J. Hall, Jr., president and CEO, and David E. Hall, president of the company's North America division.
Humble Beginnings
Overcoming poverty and lack of formal education, Joyce Hall was the architect of an industry. Though he became a wealthy man, profit was never foremost in his thoughts. In his autobiography, When You Care Enough, he wrote, "If a man goes into business with only the idea of making a lot of money, chances are he won't. But if he puts service and quality first, the money will take care of itself. Producing a first-class product that is a real need is a much stronger motivation for success than getting rich."
When he was 16, Joyce and his older brothers, Rollie and William, pooled their money and opened the Norfolk Post Card Company in Norfolk, Nebraska. But the market for imported postcards was limited, and the new business hung on by a thread.
In 1910, at the age of 18, Joyce dropped out of high school over the objections of his family, crammed two shoeboxes full of postcards, and boarded a train for Kansas City, MO. As business picked up, he ventured into the towns served by the railroads running in all directions from the burgeoning Midwestern rail center.
Business was promising enough that Rollie joined him the following year. The young men opened a specialty store in downtown Kansas City, dealing in postcards, gifts, books and stationery. In the early days, Hall Brothers bought designs created and manufactured elsewhere and sold them wholesale.
Five years and a day after Joyce's arrival in Kansas City, his entire inventory was wiped out by fire. The brothers floated a loan and bought an engraving firm that had done work for them previously. The stage was set for the creation of the first original Hallmark designs.
In 1921, William Hall joined Joyce and Rollie in Kansas City, and in 1923, they formed Hall Brothers, Inc., the predecessor of Hallmark.
Joyce substituted the phrase "A Hallmark Card" for "Hall Brothers Company" on the back of greeting cards and began to advertise. Colleagues advised against both concepts, yet he pressed on. Also against the advice of others, he agreed to sponsor a television show, which eventually would become the Hallmark Hall of Fame, television's most honored and enduring dramatic series. His innovative advertising efforts established Hallmark as the most recognizable brand name in the industry.
In 1966, Joyce Hall stepped aside as chief executive officer in favor of his son, Donald J. Hall.
Third Generation Leaders
Donald J. Hall, Jr., son of Donald J. Hall, is president and chief executive officer of Hallmark, a role he stepped into in 2002. He also serves as vice chairman of the board. He joined the company in 1971, working in a variety of areas including manufacturing, sales, product development, and creative, before being named executive vice president of strategy and development in preparation for taking over the company's top position. He holds a bachelor's degree in economics and literature from Claremont McKenna College and an M.B.A. from the University of Kansas.
His brother, David, is president of the Hallmark North America business. He joined the company in 1981, holding positions in sales, finance, order distribution, and retailer relations. He also worked as a staff attorney, led U.S. marketing and sales at subsidiary Crayola, and served as senior vice president of human resources for Hallmark, before moving into his current role in 2005. He earned a bachelor's degree in economics from Davidson College and a law degree from the University of Kansas.
"I can't remember a time when the company wasn't part of everyday life for both my brother and me," says Don Hall, Jr. "Greeting cards were always around the house. We'd come to the office with our dad on Saturdays when we were kids, and we grew up knowing many of the people who worked here. We had summer jobs at Hallmark and have worked in different positions in many areas of the company, which has given both of us a broad view of the business.
"That grounding was invaluable in preparing us for our current roles, and so was the way Dad approached the transition. He has never interfered in our choices, but he is always there to be a sounding board and offer perspective when we ask.
"My father, who demonstrated determined leadership, tremendous work ethic and deep passion for the company, for people and the community, also has set a powerful example for both my brother and me.
"I was fortunate to have been able to spend a lot of time with my grandfather. One thing I loved about him was his curiosity and his drive to find inspiration in in all aspects of his life. From him, I learned that learning itself, and a resolve to be and do better every day, are not tasks to complete, but are goals that must constantly be pursued. Without my grandfather's entrepreneurial vision and commitment to offer the very best, Hallmark would not have come to be in the first place. And without my father's focus on continuous improvement, quality and collaborative management, the company would not have grown to become so broadly recognized as the market leader in greeting cards that it is today."
From the original two shoeboxes of postcards, Hallmark has grown into a $4.1 billion privately held company, with products found in 100 countries around the world and in more than 40,000 stores in the United States alone. Hallmark's flagship retail partners are 2,800 Hallmark Gold Crown® stores throughout the U.S., most of them independently owned by local entrepreneurs.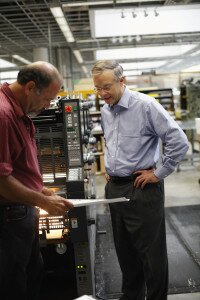 "A mantra that was constantly repeated in our family, and that drives both my brother and me today, is that Hallmark's success depends on the success of the retailers who carry our products. That's where the magic really begins to happen. The store – whether it's the Hallmark department within a larger discount, drug or grocery retailer, or a specialty store with the Hallmark name over the door – is where the products we create meet the people who need them. We work with the finest retailers in the country, and they really understand what their customers are looking for. It's our job to make sure each retailer has the right Hallmark solutions for their shoppers, and if we do that, everyone wins – the retailer, the consumer, and Hallmark.
"We also were schooled in the importance of excellence, innovation and being attuned to what's going on in people's lives so that our cards and other products really meet their needs for making emotional connections with others. My dad has often said that no one sends a greeting card in anger. That's a truth that carries even greater motivation for Dave and me in these contentious times."
While best known for greeting cards, Hallmark products also include paper party supplies, gifts and wrapping paper, ornaments, gift books and decorative items for the home, memory-keeping products, new innovations such as recordable and interactive storybooks, even a cable television channel! And as technology evolves, e-cards and personalized photo cards now play a role within Hallmark's offerings.
"While there's lots of buzz around social media, it's important to remember that the greeting card industry continues to be huge – people buy around 13 million greeting cards a day! Digital technology is expanding the number of people we can connect with and the range of choices we have, and it certainly opens up new opportunities for Hallmark that we are pursuing. But we have to remember that many of these tools serve a different purpose than greeting cards, which consumers continue to tell us they value as a tangible way to express caring. It's something they choose, sign in their own hand and give to someone else to brighten their day, and something recipients often keep as a reminder of those relationships."
With more than 13,000 full-time employees worldwide, Hallmark employs 3700 full-time in its Kansas City headquarters including 700 artists, designers, stylists, writers, editors, web designers, and photographers.
"The Hallmark brand is widely known for excellence, creativity, innovation and caring, and that naturally attracts employees who are eager to sign on for that mission.
"In addition, several decades ago my father recognized the need to articulate beliefs and values that must guide the organization as it continued to grow and accountability became more dispersed. The work he did then stands essentially unchanged today. We talk about those beliefs and values all the time, and we use them as a filter through which we make decisions, so the expectations are clear to everyone who is part of the Hallmark family.

"Some of the most crucial qualities of leadership today – leadership of Hallmark or any other enterprise – are to be persistent in challenging those around you to push the boundaries of their thinking, to meet every challenge as an opportunity, and to realize that the success of your business partners (for us, the retailers who carry our products) is essential to your own success.
"You don't need to look much further than the Enactus mission – to bring together the leaders of today and tomorrow to create a more sustainable world through the positive power of business – to understand my brother's and my enthusiasm for the organization. Enactus instills values of a strong work ethic, accountability for results and success through partnership, a philosophy we share. Enactus students are active in their communities and eager to make a positive difference – characteristics we value highly. Enactus makes it clear to the business leaders of tomorrow that business can be run with compassion and integrity, and be successful. We wholeheartedly agree!"
Editor's note: This article was originally published in the Spring 2012 issue of Career Connections magazine.  The interview was conducted by Enactus alumna, Ellen Langas of NouSoma Communications.